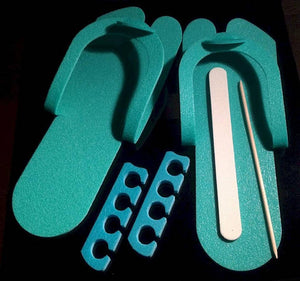 Pedicure Set - Aqua
Product Description:
This is an offer for a 4 piece Pedicure Set.
Product Color:
Aqua

Product Uses:
This product is great for your Spa day or pedicure appointment.  The slippers are made of dense foam. This set contains: 
(1) Pair of foam slippers
(1) Pair of toe separators
(1) Nail file
(1) Nail pick
Material: 
High Density Foam
Product Dimensions:
The slippers are 12 inches long, but can be trimmed.

Care/Warning: 
Be sure to let dry thoroughly if the slippers get wet.
---
We Also Recommend
---